N e w s
New version of Acoustic Occurrences was presented at Odense Havnekulturfestival 2012. It has been commissioned by "Center for Kunst & Videnskab" Now it is permanently on display at Øhavsmuseet at Langeland.
The release "Quiet Works for Cello & Commodore 64" is currently sold out...

A b o u t
I have been composing electronic music for 13 years. I work with multi channel pieces, installations, computer game music, analog and digital synthesis etc. I finished my masters in Electronic Music Composition from DIEM (Danish Institute for Electronic Music) in 2011. I am now employed at Sonic College as course coordinator and teacher

C u r r e n t
-An Acid/Techno release exploring FM synthesis programming with hardware synths.
-A piece for two strobe lights and two loudspeakers for the exibition opening at "Graenselands-
udstillingen".
P r o j e c t s
Terfenol-D Beta-Speaker (2008)
Concert at the State Museum of Art (2008)
Sound Installation "21 Infants" (2007)
Release "Quiet Works for Cello & C64" (2009)
4SpeakerResonanceSystem (2010)
AcousticOccurrences Haderslev (2011)
ElectroMagnetism Odense (2012)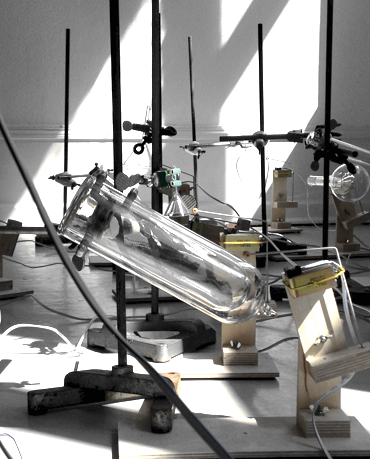 "In the beginning the Universe was created. This has made a lot of people very angry and has been widely regarded as a bad move."
Douglas Adams, The Restaurant At The End Of The Universe

E x c e r p t s
Terfenol-D Beta Speaker (short excerpt)
Sound Installation "21 Infants" (short excerpt)
STM-Microscope Calibration (excerpt)
Headphone_Concert (short excerpt)
Video "Cello&Commodore64 (2009)
L i n k s
www.jonasrkirkegaard.blogspot.com
www.twitter.com/jonaskirkegaard
www.myspace.com/jonasrkirkegaard
T r a c k s